[email protected]

&

[email protected]
This chrome displacement shader makes use of sine/cosine waves to displace the sphere along the S and T axes. I started with liza's chrome ball shader, and added a sine wave displacement, and some simple animation controls.

The following ShadeTree screen shows how the shader works..
The animating version of this shader you see in the previous page was generated from within ShadeTree, using a 'FrameRange' box to animate the AMP input to the 'displacement' box.

Here are some simple variations with different frequencies and object orientations..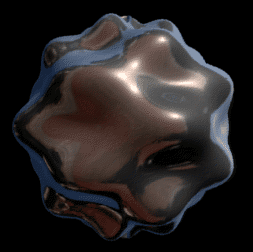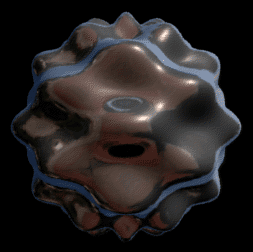 Copyright (c) 1996 Cinema Graphics Inc. All Rights reserved.