Spotlight Box
---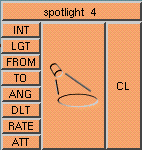 The Spotlight Box contains several inputs which give you control over how your spotlight will look.

Here is a description of the input buttons for this box:

INT controls the intensity of light.
LGT controls the spotlight's color.
ANG the half angle for the total cone of the spotlight.
A 180 degree cone angle will turn a spotlight into a point light.
DLT this is the amount of the half angle used for the falloff.
RATE controls the rate of the cone's falloff.
FROM is the position of the light.
TO is where the light shines. Together with the light position,
this point defines the direction vector for the light.
ATT Attenuation starts at the light's postion. This button defines
the distance from the light's postion at which attenuation finishes.

The output, CL is the light color returned to the renderer.