| | |
| --- | --- |
| | ShadeTree Technical Reference |
ShadeTree Startup File (1.0.2+)
A guide to the ShadeTree startup file, defining interface defaults.
Customize background colors, paths to your own boxes, etc.
Box Definition Files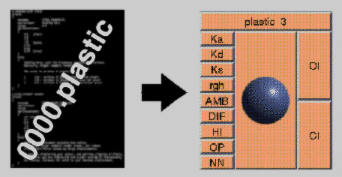 ShadeTree 1.0.2+
ShadeTree 1.0.10+


Use the correct version for your installation!
A reference guide for the operation boxes description files.
Use this reference to help you create your own boxes.


Copyright (c) 1996 Cinema Graphics Inc. All Rights reserved.